Market
U.S. existing-home sales rise for the first time in 13 months, surging 14.5% in February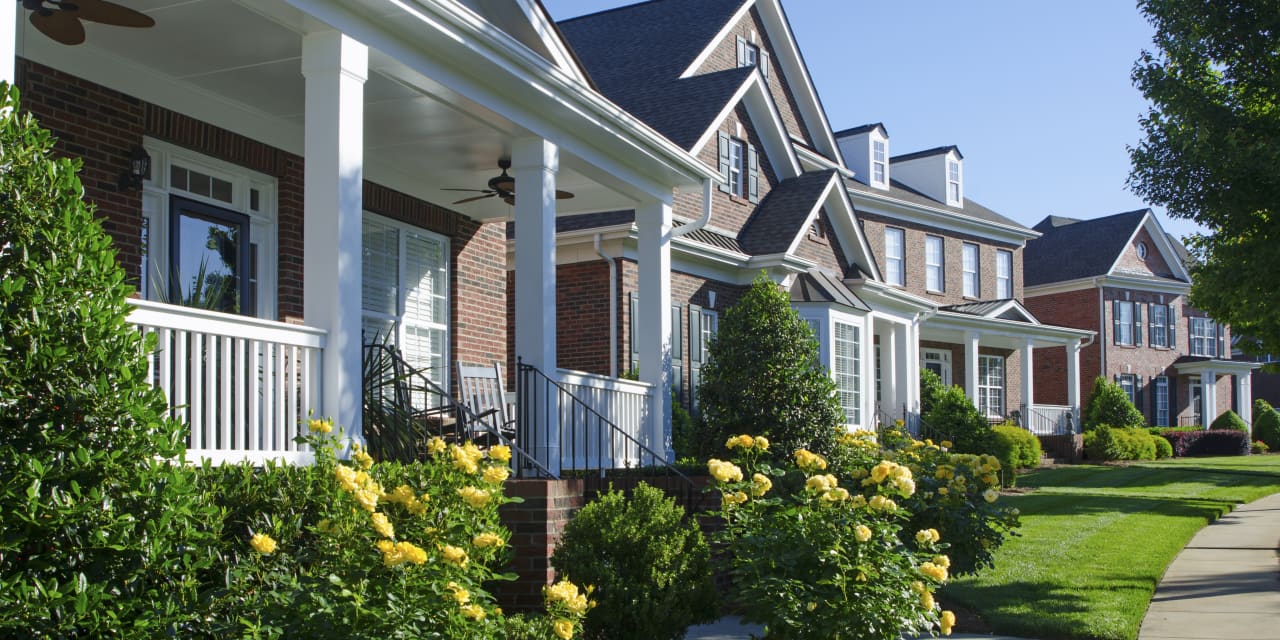 A brief drop in mortgage rates has boosted U.S. home sales, but with economic uncertainty and elevated rates, the recovery may be short-lived. 
The numbers: U.S. existing-home sales jumped 14.5% to an annual rate of 4.58 million in February, the National Association of Realtors said Tuesday.
The numbers are seasonally adjusted.
The surge in sales reverses 12 months of losses in existing-home sales. The increase of 14.5% is the largest since July 2020, during the pandemic. Back then, sales rose by 22.4%.
Single-family home sales in particular are at the highest ever since the NAR began tracking the number since 1999.
Economists had expected existing-home sales to total 4.2 million in February.
Compared with February 2021, home sales were still down by 22.6%. 
Key details: The median price for an existing home fell slightly to $363,000 in February.
It's the first drop in over a decade. Home price declines in the Northeast and West weighed down the overall number.
The number of homes on the market stayed flat at 980,000 units in February. 
Expressed in terms of the months-supply metric, there was a 2.6-month supply of homes for sale in February, down from January. Before the pandemic, a four or five-month supply was more the norm.
Homes remained on the market for 34 days on average, up from 33 days in January. Pre-pandemic, the average time for homes to remain on the market was a month. 
Sales of existing homes surged in most regions, led by the West, which saw a 19.4% increase. NAR said the Silicon Valley region may likely see more pain, which will show up in the data in the future.
The South reported a 15.9% increase in sales in February, followed by the Midwest, at 13.5%, and the Northeast by 4%. 
But sales are still down nationwide when compared to the year before. 
All-cash transactions made up 28% of all transactions. About 27% of homes were sold to first-time home buyers, a drop from the previous month.
The share of individual investors or second-home buyers rose from 16% in January to 18% in February.
Big picture: There's clearly a ton of pent-up demand in the housing market, as seen by February's jump in home sales. A dip in mortgage rates may have propelled home buyers to jump on purchasing a home, boosting sales. 
But meeting supply is the biggest issue at the moment. As First American's Mark Fleming puts it, "you can't buy what's not for sale." Many homeowners are reluctant to list, which could be pushing people into the new home market.
Plus, it's unclear how long this recovery will last. Mortgage rates are now back up, with the 30-year averaging at 6.67%, per Mortgage News Daily, and the economic outlook looks bleak – both leading to possibly lower sales in the next month.
What the realtors said: "I'm quite surprised,"  Lawrence Yun, chief economist at the National Association of Realtors said. "The recovery is coming stronger, [but] maybe it will deflate again if the mortgage rates get too high… [and] mortgage rates have a very big influence."
Still, inventory levels are at historic lows, he added, and "consequently, multiple offers are returning on a good number of properties."
Existing-home sales which generally comprise 90% of the market, are losing market share to new homes, Yun noted. There are as many new homes as existing homes on the market, he said. 
What are they saying? "The existing home sales figure for February likely benefited from lower borrowing costs as well as an unusually warm winter.  Of course, both of these forces will be fleeting," Stephen Stanley, chief U.S. economist at Santander U.S. Capital Markets, wrote in a note. 
"Mortgage rates shot back up in early March.  They will presumably come off again over the next week or two, but the chaos in the banking sector may prove to be an offset, because potential homebuyers could get skittish and/or banks may tighten their lending standards a bit," he added.
Market reaction: Stocks were up in early trading on Tuesday. The yield on the 10-year note
TMUBMUSD10Y,
3.571%
rose above 3.58%.
Most Related Links :
Public News Time Latest News Sports News Finance News Automobile News