Finance
Loblaw fights back after removal of price freeze draws criticism on Twitter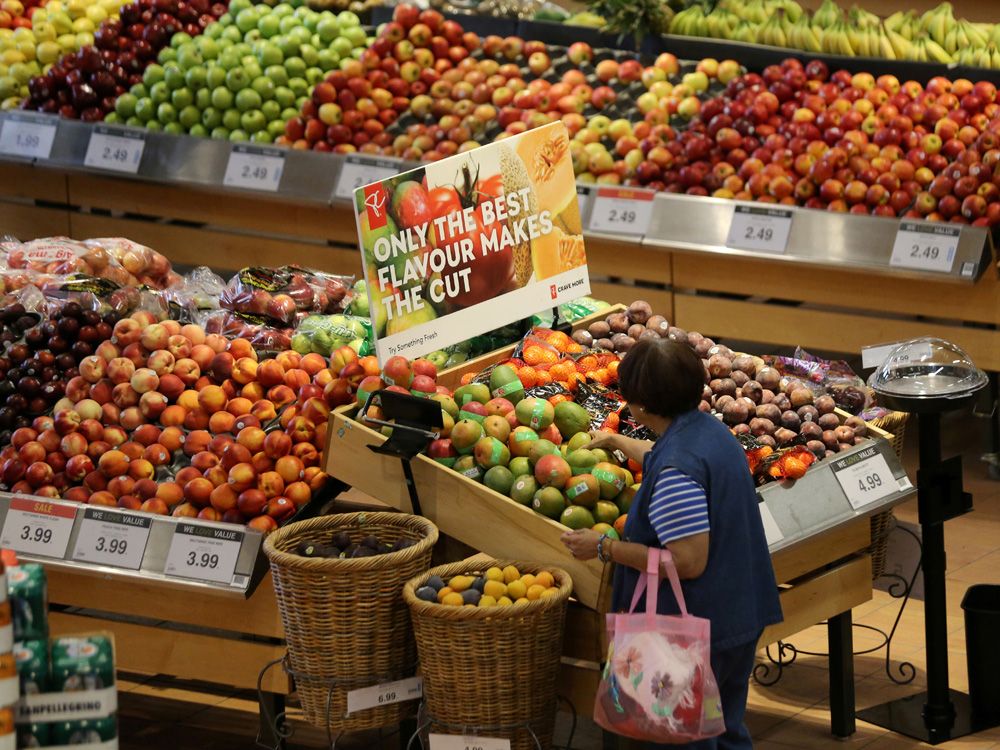 'We may be the face of food inflation but we are not the cause'
Article content
Loblaw Cos. Ltd. is using Twitter for "damage control" as it attempts to mitigate public backlash over lifting a price freeze on some grocery products, according to a marketing expert.
Article content
The social media team of Canada's largest grocery company went on the defensive on Jan. 31, responding to criticism from disgruntled customers tweeting about the company and the end of the price freeze.
Article content
In one example, a person tweeted, "@loblawco jacked up prices, and then 'froze' them at a higher rate for a bit of PR. Now their 'price freeze' is over, and they're going back to seeing how much profit they can make by starving people."
The company account replied back in its own tweet saying, "We froze prices when costs continued to climb. We took a stand on the price freeze because we knew that the price of food was a huge concern for many Canadians."
Article content
David Soberman, a marketing professor at the University of Toronto, said the company is "engaging in damage control" with its Twitter blitz. "People are not fooled by it and what ends up happening is, once you announce that you have to basically take the price freeze off, the chickens come home to roost."
Terms related to Loblaw began trending on Twitter on Jan. 31, a day before the company's February deadline — set back in October — for the expiry of the price freeze on its No Name value brand products. As criticism for the removal of the price freeze trended on the social media platform, Loblaw sent off a series of tweets in response in which it denied accusations of profiteering, said it was continuing to work to mitigate rising costs and pinned higher prices on food suppliers.
Article content
"We may be the face of food inflation but we are not the cause. The staggering increase of costs throughout the food supply chain end up on our shelves, leading to higher food prices," the company replied to a user's tweet questioning profits.
Article content
In mid-October, the grocer announced it would freeze prices across its No Name products until the end of January this year, framing it as a decision to give shoppers some relief at the checkout amid astonishing levels of inflation.
But the announcement created blowback, and other major grocers accused Loblaw of dressing up an empty gesture, saying it's industry practice for grocers to implement a blackout period on prices during the holidays.
A Loblaw spokesperson said customer response has generally been "massively positive" in regards to the price freeze. "It's a different story on Twitter. There are a hundred complicated reasons that food prices are up. Unfortunately, it's easiest to blame grocers, as we're seeing globally. If we don't put the truth out there, no one will," the spokesperson said by email, adding that the company responded to "about 35 people online" Tuesday.
Article content
Standard practice or not, the price freeze could have led more people to shop at Loblaw grocery stores and company execs are likely tracking how effective the marketing campaign was, Soberman said.
Backlash generated online shouldn't be misconstrued as an accurate reflection of the fervour and sentiment of customers offline. Therefore, Loblaw is "applying marketing 101" with its Twitter response, he said. "If you're not going to tell people something that they like, at least respond to them because you're showing respect for their concerns. I think, on the whole, they're doing… the right thing," Soberman said. "People like to be heard."
Article content
Angst about the cost of groceries has been growing since the summer, when inflation levels peaked, but grocery prices kept rising. Food inflation has hovered around 11 per cent for the last four months. Statistics Canada on Jan. 17 said price growth was starting to taper off in some categories, such as baked goods, but was offset by the price of fresh vegetables this winter, which jumped 13.6 per cent in December compared to the same time last year.
Numerous factors are contributing to higher grocery costs. The war in Ukraine has disrupted global grain supplies and input prices have soared along with inflation. Central banks around the world are raising interest rates, a broad and blunt instrument that's squeezed purchasing power. And bad weather, paired with disease in growing regions like California and Florida, has also slashed supply.
With additional reporting from Jake Edmiston.
• Email: [email protected] | Twitter: biancabharti
Most Related Links :
Public News Time Latest News Sports News Finance News Automobile News