Finance
Meet Loblaw's driverless trucks, now making e-commerce deliveries around the Toronto area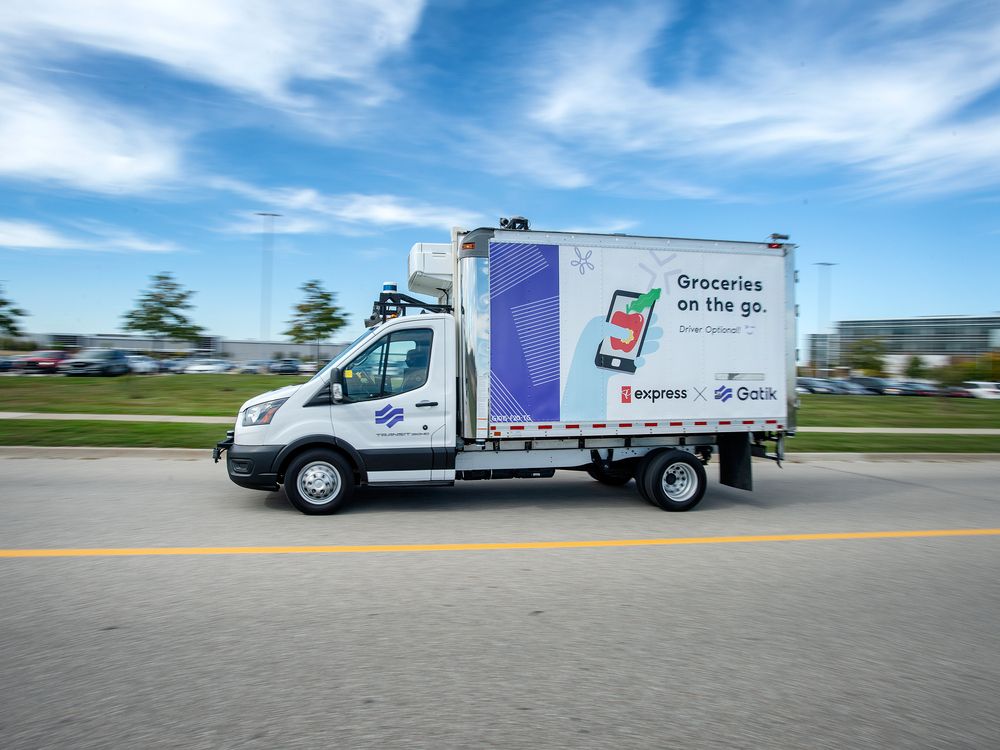 Fleet of five trucks are the first autonomous commercial delivery vehicles in Canada
Article content
A purple and white truck left a suburban supermarket on a Wednesday night in August and drove seven kilometres to the headquarters of Loblaw Companies Ltd. in Brampton, Ont., just west of Toronto. It was a historic trip, according to the grocery chain, because for the first time, no one was in the driver's seat.
Article content
For about two and a half years, Loblaw has been working with Gatik Inc., an autonomous technology company based in Silicon Valley's Mountain View, Calif., to run a fleet of five driverless trucks guided by cameras, laser sensors and sonar. In that time, the trucks have completed 150,000 trips without safety issues or accidents, picking up online grocery orders at a fulfilment centre and dropping them off for customers at a handful of pickup points around the Toronto area. But until that night in August, the trucks always had a human in the driver's seat who could take control of the vehicle at any point.
Article content
Now all five trucks are driving around Toronto, 12 hours a day, with an empty driver's seat, which Loblaw says is a first for autonomous commercial delivery vehicles in Canada. The hope is that, by next year, the trucks will run without any humans in them at all, making Loblaw's e-commerce deliveries more efficient and less reliant on a tightening labour pool for truck drivers — which had 28,210 job vacancies in the second quarter, up more than 50 per cent year over year, according to the latest Statistics Canada report. But for the next few months, the trucks will still run with a safety driver in the passenger seat as a precaution, next to a red, tangerine-sized button known as the emergency stop, or the "kill button."
Article content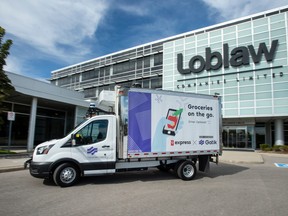 However, Gatik chief executive Gautam Narang said the human in the passenger seat is actually necessary, and is just a courtesy to local emergency services.
"They wanted someone to interact with, just in case the vehicle got pulled over," he said in an interview on Tuesday. But the trucks have speakers for that, so Gatik's staff can communicate remotely with police or other drivers if there's an accident. And it's not legally required to have a person in the truck in Ontario, since the provincial government is running a pilot program that allows for certain autonomous vehicles to run without a driver. Gatik is also running trucks for Walmart Inc. in Arkansas without anyone in the vehicle at all.
Removing the driver is the holy grail in our industry

Gautam Narang, Gatik chief executive
"The big news here is that we're able to do commercial deliveries literally without the need for a driver," Narang said. "Removing the driver is the holy grail in our industry."
Article content
Gatik charges Loblaw an annual fee, based on the number of trucks and the usage per hour. Narang wouldn't divulge the actual price tag, but he said he believes the autonomous trucks will end up being 30 per cent cheaper than regular trucks within five years.
The new fleet is focused on what's known as the middle mile in logistics, transporting online orders from a fulfilment centre to stores and pickup locations — as opposed to long-haul trips transporting product from a manufacturer to Loblaw's larger distribution warehouses, or the so-called last mile, delivering to homes. Loblaw and Gatik picked the middle mile because the routes are short and predictable, so the trucks can drive the same roads over and over, collecting data on traffic patterns and weather that can help guide future trips.
Article content
David Markwell, Loblaw's chief technology and analytics officer, said the main benefit of autonomous trucks is they can run more frequent trips, 24 hours straight if necessary, without having to stop so the driver can take a break. "The goal is that it will be cheaper when the driver comes fully out," he said, before adding: "It's not necessarily a labour elimination opportunity as much as it is being able to run higher frequency deliveries."
Loblaw is planning to keep someone in the trucks at least until "some point next year," Markwell said. The trucks bear the Loblaw logo, and the grocery chain wants to be certain the trucks won't get into any trouble.
"It's definitely a reputational concern," he said. "We want to make sure that we're comfortable."
• Email: [email protected] | Twitter: jakeedmiston
Most Related Links :
Public News Time Latest News Sports News Finance News Automobile News