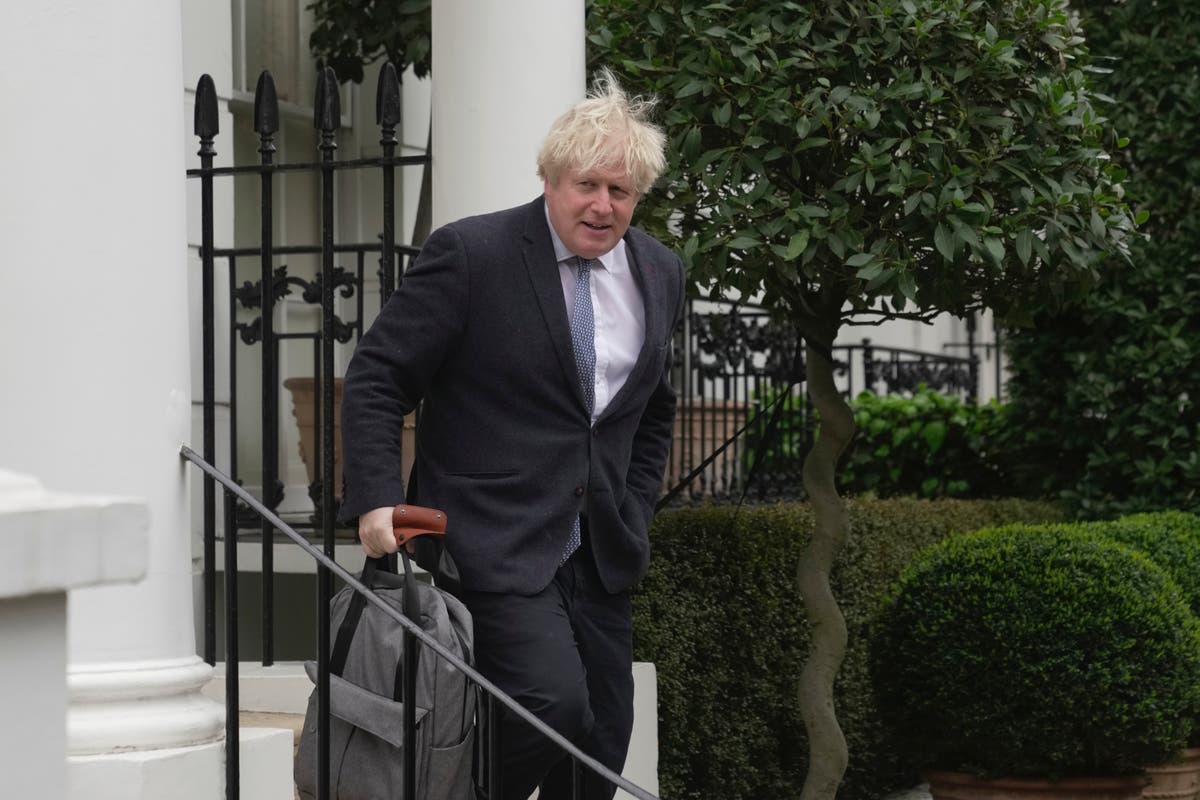 Boris Johnson has accepted that he misled MPs but insisted his Partygate denials were made "in good faith" based on what he "honestly" knew at the time.
The former prime minister insisted in his written evidence to the Privileges Committee inquiry that he "did not intentionally or recklessly mislead the House".
His 52-page defence dossier was published on Tuesday, a day before he faces a live grilling by the cross-party group of MPs in a hearing that could decide his political fate. The committee said Mr Johnson's legal argument "contains no new documentary evidence" and that it had to be resubmitted on Tuesday because of "a number of errors and typos".
Mr Johnson claimed that he corrected the record at the "earliest opportunity" at the Metropolitan Police probe, as he battles to avoid a possible suspension and a by-election that could wreck his political career.
The former prime minister also claimed that he believed his staff drinking wine was within the rules – claiming he and other No 10 officials believed gathering to drink alcohol was necessary for "work purposes".
Below are all the key findings from the report:
Boris Johnson accepts he misled Parliament
In the introduction to his dossier, Boris Johnson says in his evidence to the Privileges Committee that he accepts he misled the House of Commons when he said lockdown rules had been followed in No 10 but insisted the statements were made "in good faith''.
"There is not a single document that indicates that I received any warning or advice that any event may have broken rules or guidance," he says.
One of the allegations explored by the committee was that Mr Johnson relied on advice from his political aides that was incorrect.
But Mr Johnson's evidence claims this is "unprecedented and absurd", adding that it was "self-evidently reasonable for me to rely on assurances that I received from my advisers".
Later on in the evidence, Mr Johnson says assurances he relied upon from advisers about the 18 December event later turned out to be incorrect.
'No cake was eaten, no one sang happy birthday,'
Boris Johnson said it "remains unclear" to him – and possibly prime minister Rishi Sunak – why they were fined for breaching lockdown laws.
He said that a 19 June 2020 event was not raised to him as breaking lockdown rules until he was given a fixed penalty notice and the absence of cake at the birthday gathering was a sign the gathering was allowed.
"We had a sandwich lunch together and they wished me happy birthday. I was not told in advance that this would happen.
"No cake was eaten, and no-one even sang happy birthday. The primary topic of conversation was the response to Covid-19."
Mr Johnson wrote in his evidence: "I have accepted the conclusion of the police that my participation in the gathering in the Cabinet Room on my birthday, which I knew nothing about in advance, was unlawful.
"However, to this day it remains unclear to me – and I believe the Prime Minister may feel the same – how precisely we committed an offence under the regulations.
"I have never been provided with any rationale by the police, in particular how some individuals that attended did not receive a fixed penalty notice.
'Illogical' to suggest there were cover-ups of lockdown parties
The former prime minister said it was "illogical" to suggest there were efforts to cover-up lockdown parties.
He wrote in his evidence to the Privileges Committee: "Some of those who attended the relevant events wished me ill and would denounce me if I concealed the truth from the House. Far from achieving a 'cover-up', I would have known that any deception on my part would lead to instant exposure."
He added that it was "implausible" that pictures would have been taken by the official No 10 photographer if he had known the events were "obviously" against the rules.
No10 is an 'old, cramped London townhouse,' Johnson says
Boris Johnson insisted that any lack of social distancing in the "old, cramped London townhouse'' of No 10 was not necessarily a breach of guidance.
He said: "If that is genuinely the committee's view, it is obviously wrong. Everyone at No 10 was working together around the clock to fight Covid-19.
He said the building has "many bottlenecks and many small rooms."
"We tried to keep our distance but we knew that proximity was sometimes unavoidable, and we knew that this was acceptable under the guidance," Mr Johnson said.
Boris Johnson criticised 'highly partisan' Privileges Committee's report
Boris Johnson criticised the scope and "highly partisan" content of the Privileges Committee's interim report.
"It is important to record my disappointment at the highly partisan tone and content of the fourth report," he said in his evidence to the committee.
The report suggested breaches of guidance would have been obvious to Mr Johnson, "despite the fact that the committee has not yet heard any evidence from me", he wrote.
The former prime minister also claimed the committee "has gone significantly beyond its terms of reference" by alleging it had been obvious to him that the guidance was not followed, while previously being concerned with the regulations.
Dominic Cummings 'not a credible witness'
Boris Johnson urged the committee not to treat Dominic Cummings as a credible witness because of his "animosity towards me".
"It is no secret that Dominic Cummings bears an animus towards me, having publicly stated on multiple occasions that he wanted to do everything that he could to remove me 'from power,'" Mr Johnson wrote.
"He cannot be treated as a credible witness."
Most Related Links :
Public News Time Latest News Sports News Finance News Automobile News