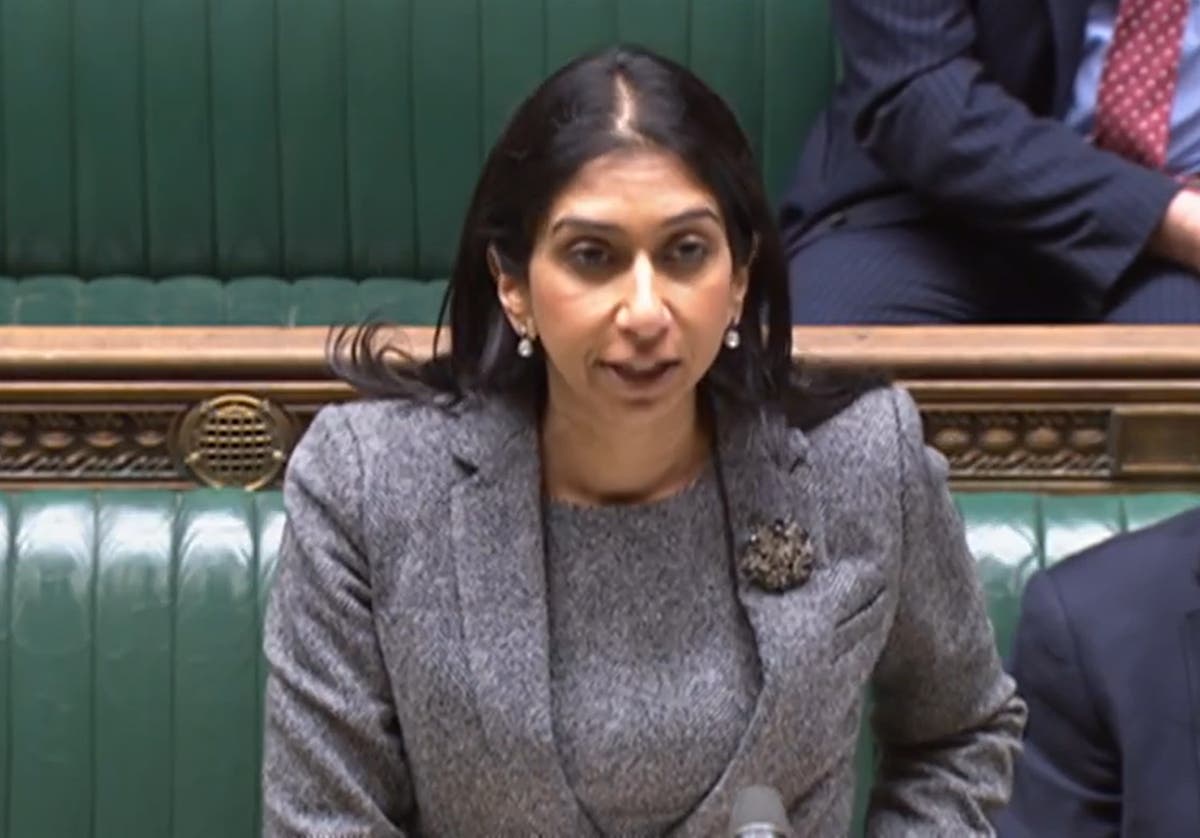 Suella Braverman has rejected the "label" of institutional racism, misogyny and homophobia applied to the Metropolitan Police by a damning review.
The home secretary backed commissioner Sir Mark Rowley's stance on Baroness Casey's report, which was triggered by the murder of Sarah Everard.
He told a press conference he accepted the "deeply troubling diagnosis" that the force contains racists, misogynists and homophobes and has systemic failings, but would not use the term "institutional".
"I have to use practical, unambiguous, apolitical language," the commissioner said. "I don't think the term fits those criteria, it means different things to different people. It's become quite politicised as an idea."
Responding to the report in parliament on Tuesday, the home secretary said that MPs should judge Scotland Yard on its actions and "not whether they accept a label".
"On the topic of institutional racism I agree with Sir Mark Rowley, it's not a helpful term to use," she added.
"It's an ambiguous, contested and politically charged term that is much misused and makes it harder for police officers to win back the trust of communities."
The prime minister's spokesman repeated a similar line, sidestepping a question on whether Rishi Sunak believed the Met was "institutionally racist, misogynist and homophobic".
"I haven't asked him about that specific word," he said. "But certainly we believe it is the actions that are vitally important here. The public want tangible change, not just talk."
The term institutional racism was first applied to the Metropolitan Police 25 years ago, in a report sparked by the racist murder of black teenager Stephen Lawrence.
A recent inquiry into the unsolved murder of private detective Daniel Morgan also accused the force of institutional corruption.
Labour's shadow home secretary, Yvette Cooper, criticised Ms Braverman for repeatedly attacking anti-discrimination and diversity campaigns in police forces.
"The findings on institutional misogyny, racism and homophobia are based on evidence and clear criteria that Baroness Casey has set out," she told MPs.
"The home secretary rightly says she wants discrimination tackled in all its forms, but she has been telling police forces the opposite, and telling them not to focus on those issues. So where is her plan now to turn that around?"
In a letter to chief constables across the country in September, the home secretary said: "There is a perception that the police have had to spend too much time on symbolic gestures than actually fighting criminals.
"This must change. Initiatives on diversity and inclusion should not take precedence over common sense policing."
Ms Braverman said she was working on a national programme to drive up standards and improve culture across police forces, and accused Ms Cooper of "crass political point-scoring".
The home secretary accused the mayor of London, Sadiq Khan, of failing to properly scrutinise the Metropolitan Police and said the government had already "taken steps to ensure that forces are tackling weaknesses in their vetting systems".
The Casey report said Scotland Yard had "avoided scrutiny" in the past, holding the mayor's office for policing and crime (Mopac) at arms-length, and not sharing information and data. "Mopac in turn have not been able to provide the strategic oversight function that the Met needs," it added.
"More robust and strategic oversight, based on support, challenge and mutual respect for their respective roles, is needed."
But the report also said that the home secretary was also responsible for scrutinising the force and a "hands off" approach had been brought in under Theresa May.
It also made several recommendations for the government, including changes to vetting and misconduct processes.
In a statement on the Casey review, London mayor Sadiq Khan said he was "determined to shine a light on the true extent of the cultural problems in the Met".
He added: "I want to assure Londoners that I'll be unflinching in my resolve to support and hold the new Commissioner to account as he works to overhaul the force."
Most Related Links :
Public News Time Latest News Sports News Finance News Automobile News