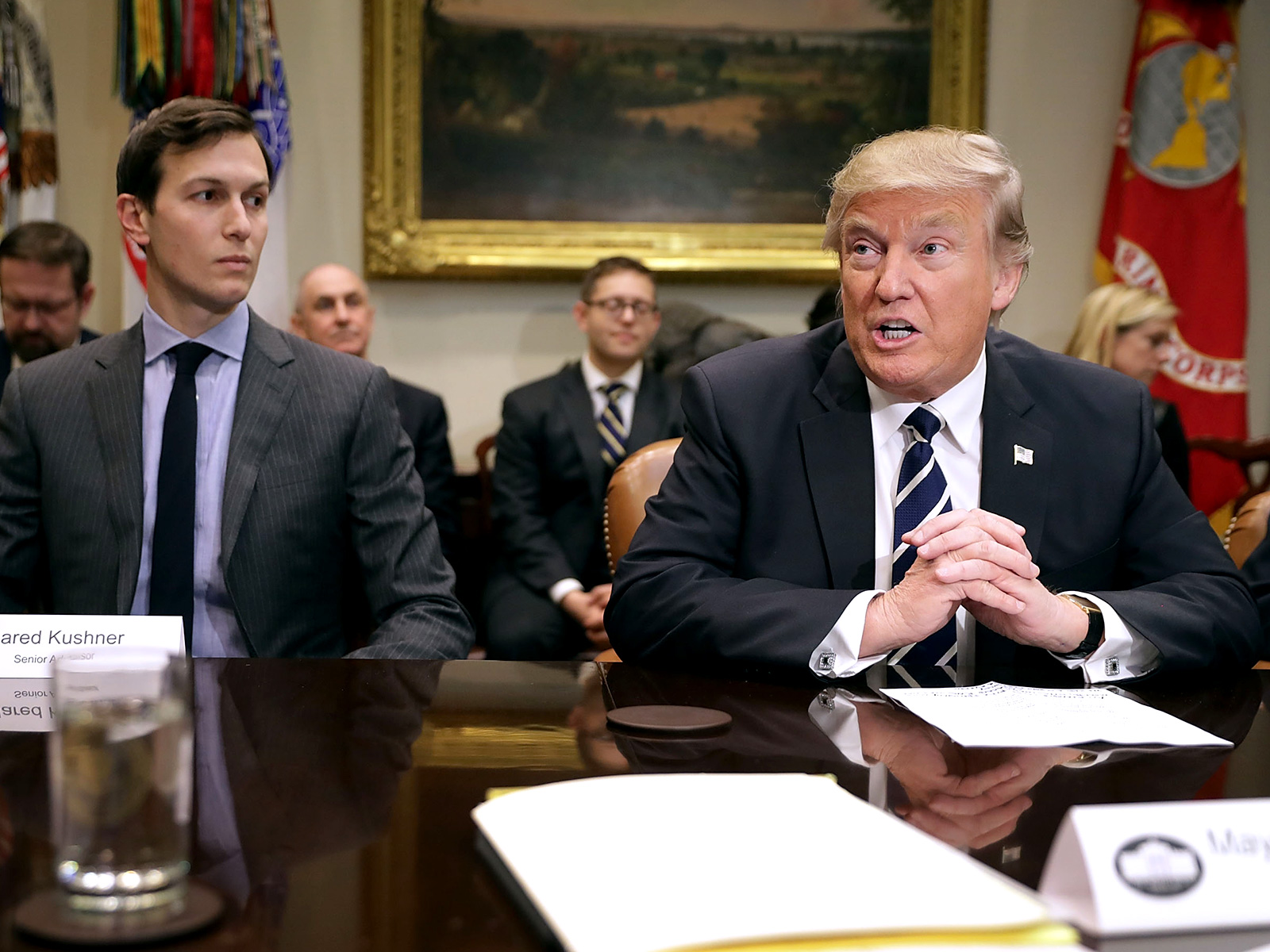 Jared Kushner on Friday broke his silence on his father-in-law Donald Trump being indicted for allegedly violating presidential campaign rules ahead of the 2016 presidential election.
"As an American, it's very troubling to me to see the leader of the opposition party be indicted," Kushner said during a speech at the Future Investment Initiative summit in Florida, adding that Trump's indictment "shows obviously the fear that the Democrats have of Trump and the political strength that he has," Bloomberg reported.
On Thursday, a grand jury indicted Trump who was being investigated by Manhattan District Attorney Alvin Bragg's office into an illegal hush money payment of $130,000 paid by his former lawyer, Michael Cohen, to adult film star Stormy Daniels to keep her quiet ahead of the 2016 presidential election about an affair she claims she had with Trump in 2006. Trump has denied the affair and maintains his innocence in the case.
The indictment sent shockwaves among MAGA Republicans and conservatives, with some saying the federal government "weaponized" the justice system.
"It's been hard to watch the opponents of him politically continue to break every norm over the last years to try to get him," Kushner said on Friday. "But what I'll say is I've been by him during a lot of these instances and it's only made him stronger, and his resolve to take on big challenges, to fight for change."
Kushner's comments come after the former president said in December that he doesn't want him and his daughter, Ivanka Trump, to be involved in his 2024 presidential campaign. However, the New York Post reported that Kushner, who worked as a senior adviser during the Trump administration, refused to help his father-in-law with the campaign after Trump met with hip-hop artist Kanye West—who made antisemitic remarks on social media—and white supremacist Nick Fuentes a week after he announced he was running for president again in 2024.
The former president announced in November at his Mar-a-Lago residence that he would be running again for the White House, however the indictment can weaken his winning chances after he became the first president to be indicted in American history.
Kushner's father, Charles Kushner, himself had a troubling history with the law as he was convicted in 2005 for submitting false tax returns, witness retaliation, and making false statements to the Federal Election Commission (FEC), Business Insider reported in 2020. The elder Kushner was then jailed for two years for the tax crimes, who was also investigated for making illegal campaign donations in 2003. Trump pardoned Kushner's father in December 2020 citing Charles' "reform" and "charity."
Meanwhile, details of the charges brought by the grand jury against Trump on Thursday remain sealed, but CNN reported, citing two unnamed sources familiar with the case, that Trump is facing more than 30 counts related to business fraud. He is expected to be arraigned in court on Tuesday.
New York prosecutors this month claimed that the payment to Daniels might be considered a campaign violation and also found that The Trump Organization recorded the reimbursement to Cohen as legal expenses. It is against state law in New York for companies to misclassify the nature of expenses. This could lead to a misdemeanor charge, which would become a felony if the misclassification took place in order to cover up another crime.
Over the past few weeks, Trump has slammed Bragg and his investigation as he called for his supporters on Truth Social to protest against the probe.
Newsweek reached out by email to Trump's media office for comment.
Most Related Links :
Public News Time Latest News Sports News Finance News Automobile News