World Updates
Marjorie Taylor Greene hopes Donald Trump "looks good" in his mugshot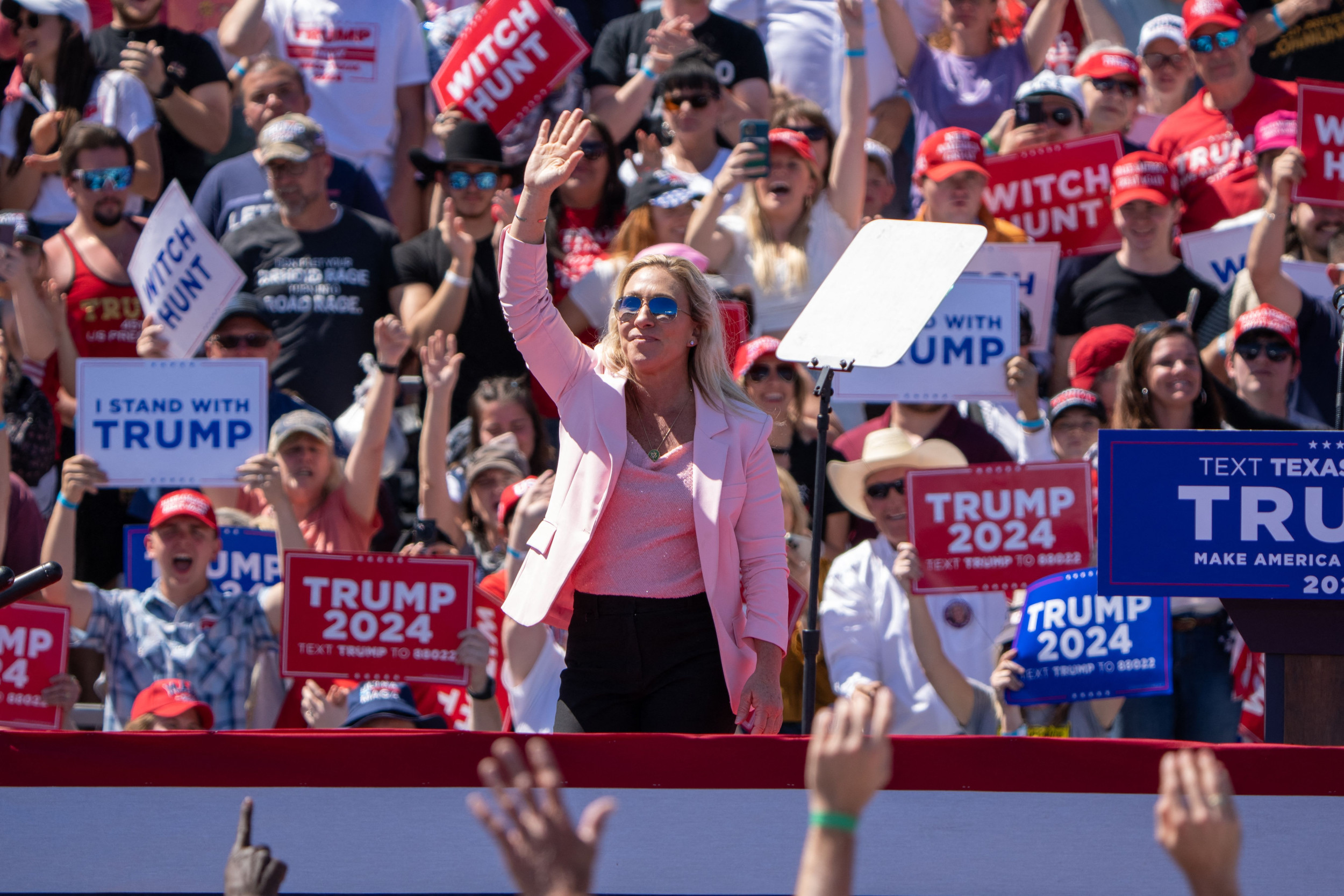 MAGA Republican Marjorie Taylor Greene, who believes Donald Trump is "completely innocent" from the criminal charges expected to be moved against him by a Manhattan grand jury, said she hopes the former president "looks good" in his mugshot.
In a video shared by the congresswoman on her Twitter profile, Greene told a room full of her supporters that the Manhattan grand jury who voted to indict the former president following a long-running investigation into whether he paid hush money to adult film star Stormy Daniels in the wake of the 2016 elections just wants his mugshot.
"All tell you all they want. Let me tell you something. They just want a mugshot. And I hope to God that President Donald J. Trump smiles pretty for that picture, because they're gonna use it in all their campaign ads, so I want my president to look good, don't you?" she said.
On Thursday, Trump became the first former president to face criminal charges. The Manhattan District Attorney's Office confirmed that Trump has been indicted and that prosecutors had made contact with his lawyers to coordinate his appearance at the courthouse. Trump is expected to turn himself in on Tuesday to face arraignment.
The exact charges against the former president are not yet known, but the case against the former president is focused on a $130,000 hush money payment made by Trump's then-attorney Michael Cohen just before the 2016 presidential election. According to federal prosecutors, Cohen acted under Trump's direction.
The payment, for which Cohen was later compensated by Trump, was allegedly made in exchange for Daniels' silence about a sexual encounter with Trump a decade earlier. Trump has consistently denied any wrongdoing and even having had sex with Daniels.
Trump and his supporters within the Republican Party, including Greene, have called the investigation against him a "witch hunt," saying that the case is a way for Democrats to suppress his influence as the 2024 presidential elections approach..
"Unbelievable, it's a witch hunt," said Greene in the same video she shared on Twitter on March 31. "Investigations, impeachment hoax #1, impeachment hoax #2, January 6 until we're all sick of hearing about January 6, and now we have this garbage going on. Can you believe the mockery they're making of America?"
The investigation against the former president and now his indictment are being used by Trump and his supporters to energize his base for the looming 2024 elections, in which Trump stands as a candidate for the Republican Party. While it's not yet clear how the case might unfold, some top Republicans appear to be standing by Trump, with Mike Pence calling his indictment an "outrage."
Newsweek has emailed Greene's spokesperson for comment.
Most Related Links :
Public News Time Latest News Sports News Finance News Automobile News