World Updates
Newark airport cargo workers strike demanding higher pay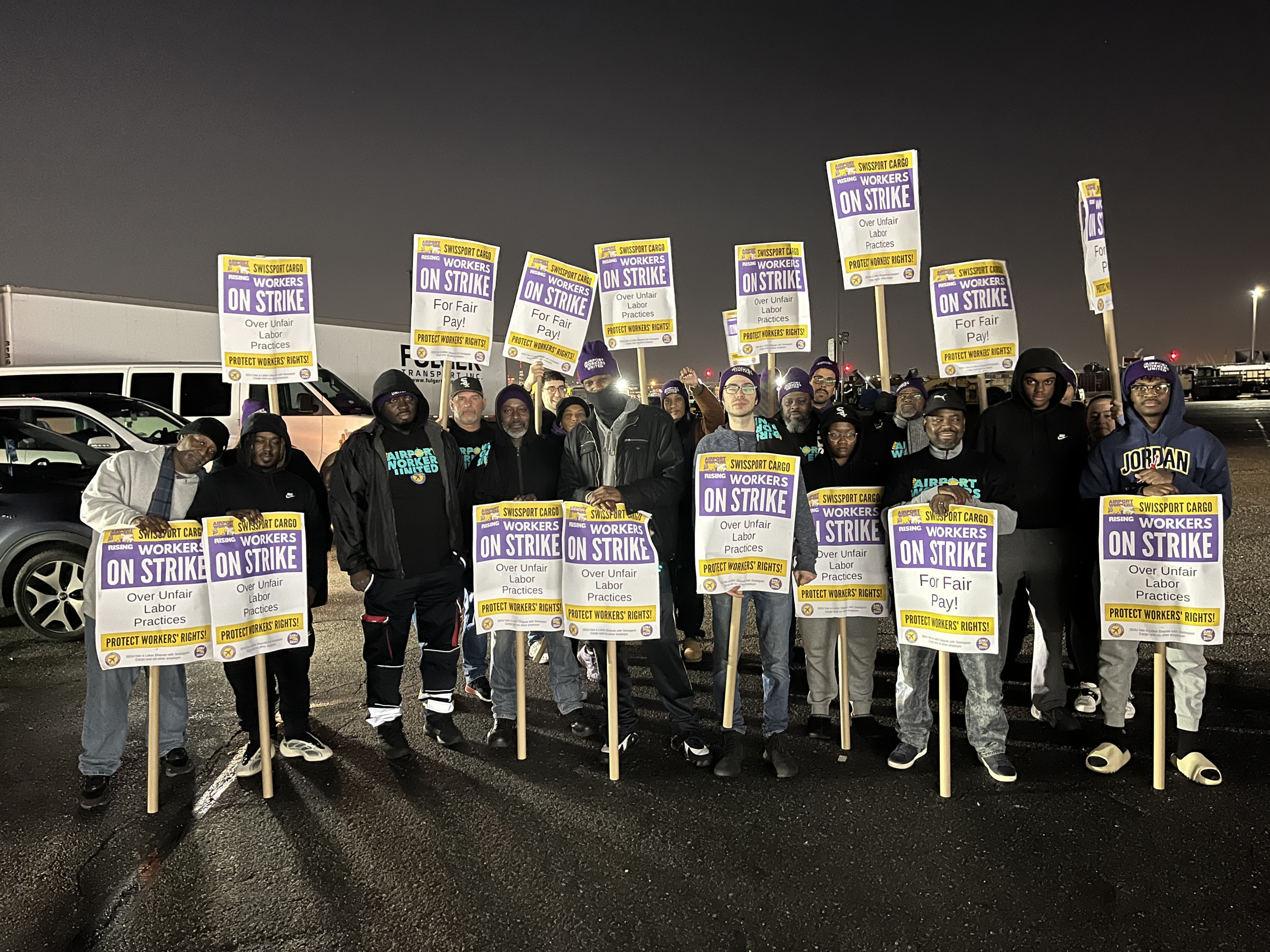 Workers at Newark Liberty International Airport in New Jersey have gone on strike while demanding increased pay and better working conditions.
Cargo workers who are part of the Service Employees International Union (SEIU) are taking part in the day of action on Thursday, December 8, which is also happening at several other airports across the United States.
In a tweet showing the Newark airport service workers in the picket line, the 32BJ SEIU branch alleged that Swissport USA has not paid the required health-care benefit supplement, and engaged in "unfair labor practices such as interrogating workers and retaliation tactics."
The cargo staff at Newark are joining other airport workers and with the SEIU union in cities across the country who are striking on Thursday while calling on Congress to pass the Good Jobs for Good Airports Act.
The legislation, introduced by Massachusetts Senator Ed Markey, would require that workers at airports be paid a minimum of $15 an hour, as well as a number of other benefits such as paid time off and health care.
A rally calling for the Good Jobs for Good Airports Act to pass while protesting current working conditions will take place at 12:30 p.m. ET at LaGuardia Airport in New York.
"We don't get enough paid time off. We're supposed to get a week of paid sick days. But we're so short-staffed, they make it almost impossible for you to take a sick day," Omar Rodriguez, a ramp agent and cabin cleaner employed by the contractor Swissport USA, said in a statement.
"We get blamed for delays, but we're only given a few minutes to clean and don't have enough people to do the work," Rodriguez added. "No one wants to stay because the pay and benefits are not enough for what we do."
Cabin cleaners, trash-truck drivers and other workers will also hold a protest rally at North Carolina's Charlotte Douglas International Airport on Thursday at 2:45 p.m. to "call for an end to low-wage, dead-end jobs."
Morgani Brown, a cabin cleaner employed by the airline contractor, Jetstream, said that she is taking part in the day of action as the company does not provide maternity leave.
"I had to go back to work a month after my baby was born, because I couldn't afford to stay home without pay. Many of us have to work overtime or multiple jobs, just to pay the bills," Brown said.
"Because of our hard work, families can travel and reunite during the holidays, but we rarely have time to spend with our own loved ones."
Shonda Barber, a Jetstream trash-truck driver who sometimes fills in as a cabin cleaner, added: "I work 70 hours a week and am just barely surviving. We don't get enough paid time off, even during the pandemic.
"I lost two weeks without pay when I had to quarantine. We need Congress to step up and make sure these are good jobs. That's good for workers and for passengers."
Newsweek has contacted SEUI, Jetstream and Swissport USA for comment.
Most Related Links :
Public News Time Latest News Sports News Finance News Automobile News