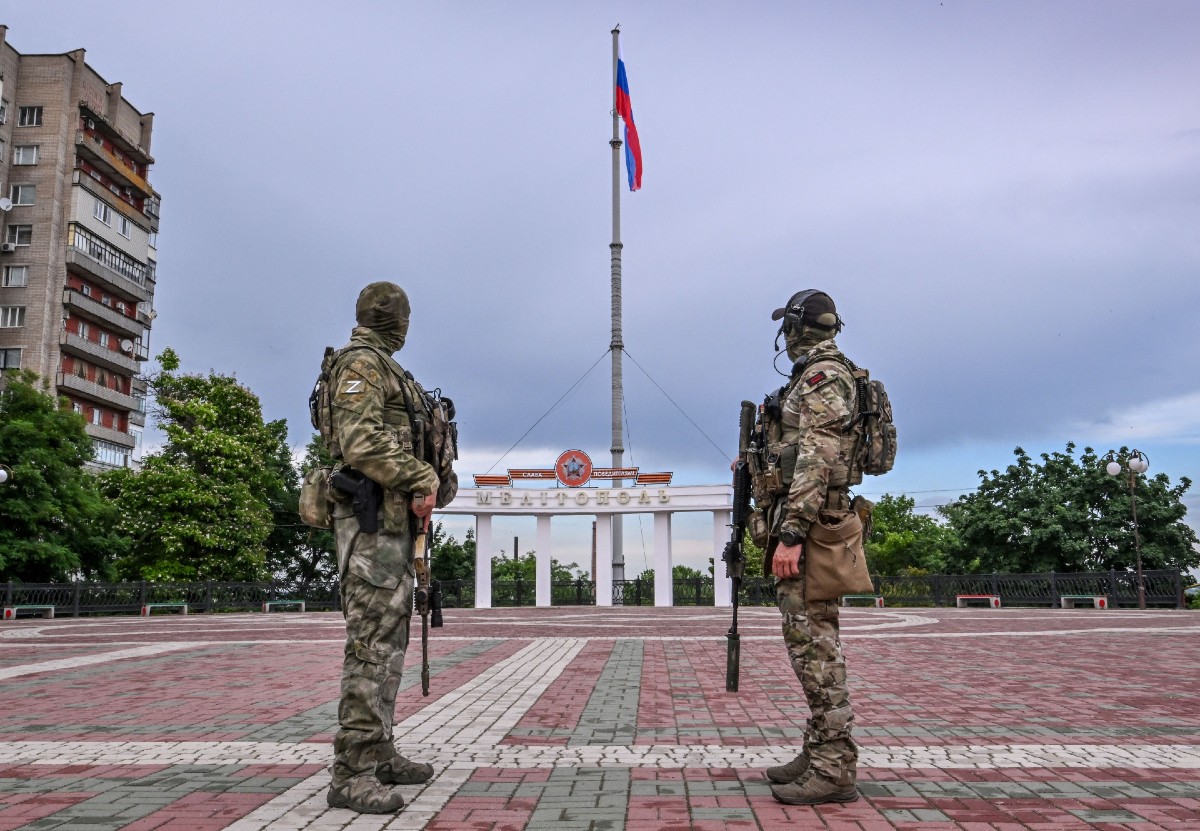 Moscow's decision to change the capital of a region in southern Ukraine to an occupied city likely shows Russia believes it may not succeed with planned "major objectives in the near future," according to a new intelligence assessment.
On March 3, Russian authorities said the city of Melitopol would replace Zaporizhzhia as capital of the Zaporizhzhia region.
Russia's defense ministry declared it had captured Melitopol just two days after the invasion of Ukraine began on February 24, 2022. It was the first major settlement to be taken over by Putin's forces as the full-scale war got underway and was seen as a key breakthrough at the time.
On March 6, Russian state media carried reports from a Kremlin official who said the city of Zaporizhzhia will once again become the regional capital, but only once Russian forces capture it.
The Southern Oblast was illegally annexed by Russian President Vladimir Putin in September 2022, but Russian forces have not gained control over Zaporizhzhia city and its around 700,000 residents. The city is located in the northern area of the Oblast – around 22 miles from the front line – but Russian forces control parts of the south of the region.
The "quiet declaration" of the alternative capital city has significance, according to the British defense ministry.
Writing in its daily update on Sunday, the U.K. government department said the decision to change capitals is likely a "tacit acknowledgment" for Russia that its forces are not expected to succeed with "previously planned major objectives in the near future."
The defense ministry did not elaborate on what these predetermined "major objectives" may be, but Western analysts say Russian forces have focused on the front lines in eastern Ukraine, rather than pushing through the south.
In the southern regions of Kherson and Zaporizhzhia, Putin's forces are working to maintain their frontline positions and secure Russian-held territory against strikes, the Institute for the Study of War (ISW) think tank said on Saturday.
But in the annexed territories, Russian-installed authorities are working to "russify" Ukrainian residents, the ISW said. Drone strikes on Friday evening and Saturday morning also targeted Zaporizhzhia, the ISW added.
Russian state news agency, RIA Novosti, reported on Sunday that the city of Zaporizhzhia was "teeming with Ukrainian militants and foreign mercenaries," quoting Vladimir Rogov, a member of the Kremlin-backed authorities in the region.
On Sunday, the General Staff of Ukraine's Armed Forces said Russian troops were "defending" in the Zaporizhzhia region, with some settlements coming under fire overnight.
In early January, the Ukrainian mayor of Melitopol, Ivan Fedorov, told Newsweek that Russian forces had fortified the city and constructed new military buildings.
"We see that they want to defend the temporarily occupied territories, and every week our citizens who have stayed in the occupied territories tell us that new Russian troops, newly drafted soldiers, arrive," he said.
Newsweek has reached out to the Russian ministry of defense.
Most Related Links :
Public News Time Latest News Sports News Finance News Automobile News