World Updates
Video shows Ukraine artillery obliterate Russian ammo storage point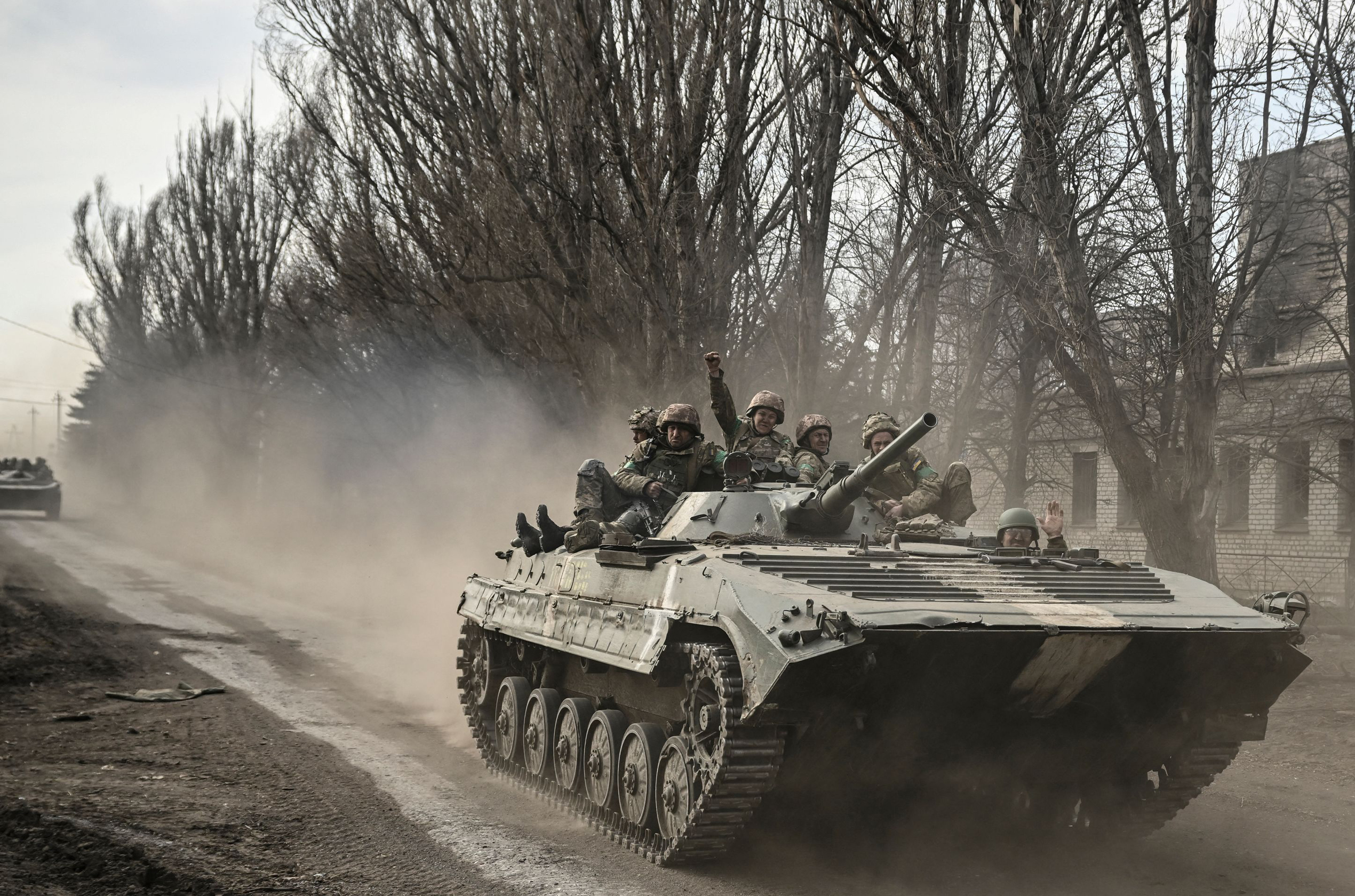 A video posted on social media captured the moment Ukrainian artillery destroyed a "Russian Ural supply truck" and "ammo storage point" near the region of Bakhmut.
"#Ukraine. A Russian Ural supply truck along with an ammo storage point was destroyed by the Ukrainian 45th Artillery Brigade in Paraskoviivka near Bakhmut, #Donetsk Oblast," Ukraine Weapons Tracker Twitter account wrote in a post with the video.
The videoed aerial footage appears to show a Russian supply truck near a white multi-story building surrounded by rubble and refuse. A stitched clip shows another angle and fire can now be seen just outside of the building with clouds of black smoke billowing. As the fire seemingly begins to engulf the building, sounds of explosions can be heard and bursts of flames explode through the windows of the tall building.
Meanwhile, along the outside of the building, fire is spreading and eventually destroys what the tweet calls a "Russian supply truck."
The nearly two-minute-long video ends by showing closer footage of charred remains of both the ammo supply point and the truck.
The video comes as fighting between Ukraine and Russia has continued over the past year. Specifically, in the region of Bakhmut, intense fighting has persisted between Russian and Ukrainian forces.
On Wednesday, U.S. Joint Chiefs of Staff chairman General Mark Milley said that the situation in Bakhmut has become "a slaughter-fest for the Russians."
"They're getting hammered in the vicinity of Bahkmut and the Ukrainians have fought very, very well," Milley said while speaking to the House Armed Services Committee Wednesday. "It's probably about 6,000 or so actual mercenaries and maybe another 20 or 30,000 recruits that they get, many of whom come from prisons."
In an update on Thursday, the General Staff of the Armed Forces of Ukraine said, "The enemy is concentrating its main efforts on conducting offensive actions. The settlements of Bilogorivka, Bakhmut, Avdiivka, Mar'yinka remain at the epicenter of hostilities. 47x enemy attacks on the specified axes were repelled."
In Bakhmut, the update said that Russian forces continue to "make further attempts to seize the town," but noted, "However, our defenders courageously hold the city, repel numerous enemy attacks."
Earlier this week, Andriy Zagorodnyuk, who currently serves as an adviser to Ukrainian President Volodymyr Zelensky, told Newsweek, "It is too early to speak about victory in Bakhmut for Ukraine…But it is certainly demonstrating an inability for Russians to reach their victory."
Amid the ongoing battles in Bakhmut, Russian forces have been assisted by members of the mercenary Wagner Group, led by financier Yevgeny Prigozhin.
According to Reuters, Prigozhin recently posted an audio message saying, "The battle for Bakhmut today has already practically destroyed the Ukrainian army, and unfortunately, it has also badly damaged the Wagner Private Military Company."
Newsweek reached out to the Russian Foreign Ministry and the Ukrainian Foreign Ministry via email for comment.
Most Related Links :
Public News Time Latest News Sports News Finance News Automobile News