World Updates
Who is Nick Fuentes? Holocaust denier who dined with Donald Trump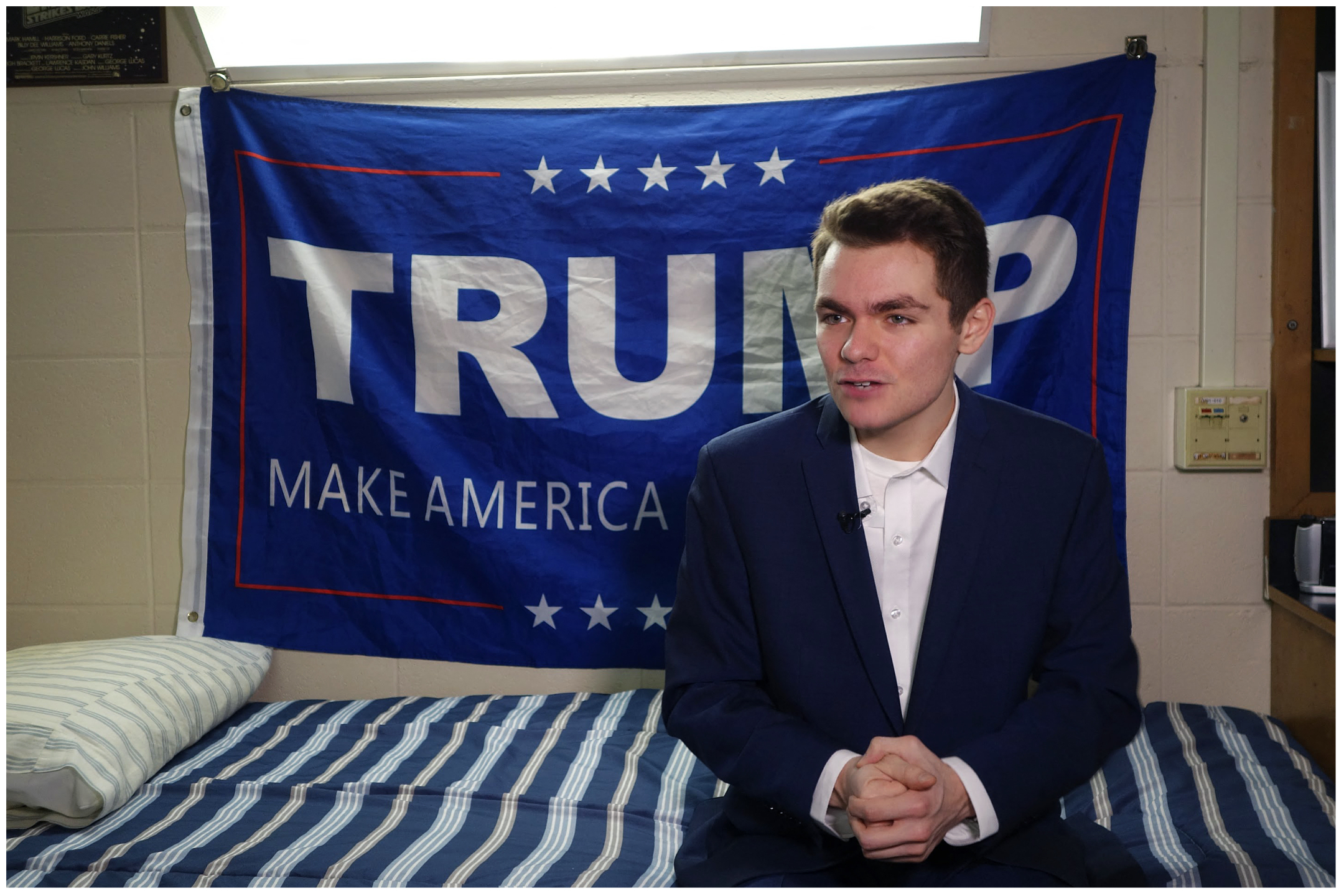 Donald Trump sparked fury after he met with Holocaust denier Nick Fuentes in Florida last Tuesday.
Fuentes, 24, from Illinois, met with the former president at his Mar-a-Lago resort during a dinner alongside rapper Kanye West, now known as Ye, who has also made a string of recent antisemitic comments online.
After the meeting, Trump said he did not know Fuentes or his background as a far-right live streamer who advocates for anti-democracy policies. Fuentes has aligned himself more closely with Ye and far-right troll Milo Yiannopoulos, who is helping organize the rapper's 2024 presidential run.
Fuentes first started live streaming during his freshman year at Boston University where he studied politics and international relations.
In 2017, he started hosting the talkshow "America First" on the Trump-supporting Right Side Broadcasting Nework (RSBN). He continued in his role despite encouraging people to "kill the globalists," a term that has antisemitic connotations. However, Fuentes' show was dropped by RSBN in August 2017 when he attended the deadly white supremacist "Unite the Right" rally in Charlottesville, Virginia.
In April 2018, Fuentes spoke at the American Renaissance Conference run by white nationalist Jared Taylor.
Fuentes then appeared on a podcast alongside American neo-Nazi Richard Spencer where he said he believed in core white nationalist beliefs, but that he did not use the label to describe himself.
"The reason I wouldn't call myself a white nationalist is not because I don't see the necessity for white people to have a homeland and for white people to have a country. It's because that kind of terminology is used almost exclusively by the left to defame," Fuentes said in the May 2018 podcast, which was unearthed by Right Wing Watch.
Spencer rose to prominence in 2016 after shouting "Hail Trump!" and being greeted with Nazi salutes at an event in Washington, D.C., shortly after Trump was elected president.
Fuentes would continue to spew divisive comments on his livestream show, which he also named America First, where he brands himself as a "Christian conservative."
He has used his platform to share Holocaust denialist and antisemitic views.
On his show, Fuentes described Jewish people as "a hostile tribal elite" and called the state of Israel "the anti-Christ"—playing into centuries-old tropes where Jewish people were blamed for Jesus Christ's death.
Fuentes has also openly used the N-word on his show and has asserted that segregation in the pre-civil rights era in the South "was better for them (Black people)," according to the Anti-Defamation League (ADL).
Meanwhile, in a Telegram post earlier this month, Fuentes said: "Jews have too much power in our society. Christians should have all the power, everyone else very little."
Despite his overt flirtation with white nationalists and Holocaust denialism, Fuentes has managed to find support among right-wing Republicans.
Representatives Marjorie Taylor Green of Georgia and Paul Gosar of Arizona as well as Arizona state Senator Wendy Rogers and Idaho Lieutenant Governor Janice McGeachin, attended Fuentes' America First Political Action Conference this past February.
During his conference, Fuentes said the United States had become the "Evil Empire in the world" and called for a round of applause for Russia.
The Republican Jewish Coalition later condemned Green and Gosar for participating in the event.
Fuentes, an avid supporter of Trump's 2016 platform, attended last year's Capitol riot and was later subpoenaed by the House select committee in charge of investigating January 6, 2021.
He has since denounced mainstream Republicans and even Trump himself, and has called for a more right-wing candidate to run in the party's 2024 presidential nomination.
After receiving backlash, Trump defended his dinner with Ye and Fuentes, and said he did not know about the livestreamer and that the rapper did not say anything antisemitic.
Liora Rez, executive director of StopAntisemitism, told Newsweek: "Whether Mr. Trump knew who Nick Fuentes was at Mar-a-Lago when they met this past week or not, he knows now, and the Former President needs to make a statement to clarify his relationship with Fuentes, a man who received a January 6th subpoena."
She added: "Kanye West, on the other hand, is grasping for straws trying to stay relevant. Seeing him traipse around with a white nationalist Holocaust denier is a pathetic publicity stunt."
Newsweek has contacted Trump's office for comment.
Most Related Links :
Public News Time Latest News Sports News Finance News Automobile News