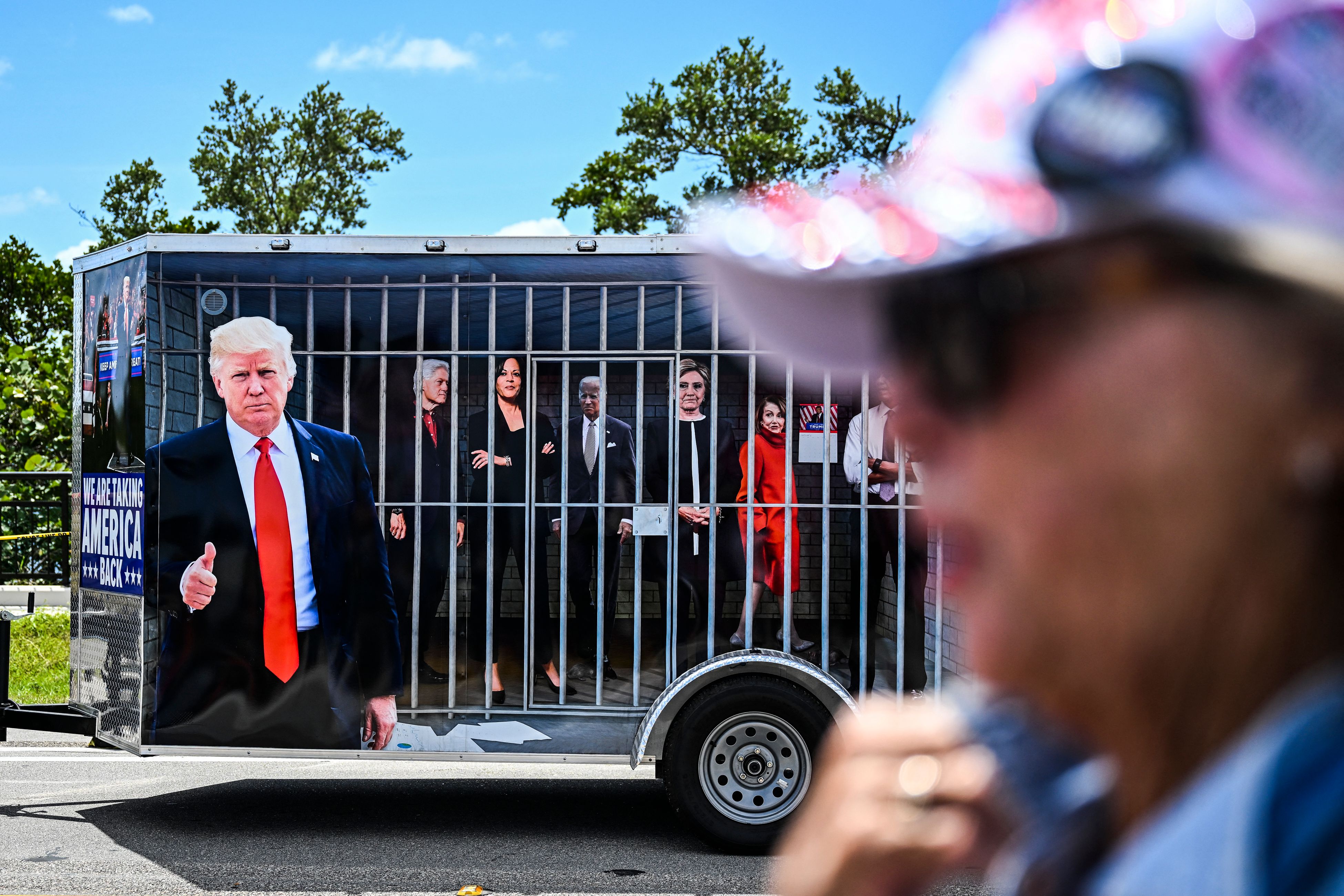 Yesterday, a Manhattan grand jury indicted former President Donald Trump as part of Manhattan District Attorney Alvin Bragg's investigation into hush money payments during the 2016 presidential campaign. It could be just the first of several indictments that Trump will face in the near future as investigations into his alleged wrongdoing proceed in other jurisdictions. The ex-president and his supporters are trying to paint the prosecution as politically motivated. But far from signaling America's descent into banana republic status, Trump's indictment marks the emergence of the country from a terrifying period of institutional decline, systematic cronyism and democratic erosion.
The case itself feels small in comparison to the magnitude of what it represents. Late in the 2016 presidential campaign, Trump's lawyer slash bag man Michael Cohen used a newly created limited liability company to make payments to two women who had previous sexual encounters with Trump, one of whom was the adult film actress Stormy Daniels. Trump then reimbursed Cohen using Trump organization funds that should have been characterized as campaign expenses, since the silence being purchased was meant to benefit the Trump campaign. The Daniels story is also particularly lurid (and damaging), as she claims she and Trump had sex in 2006, months after Melania gave birth to their son Barron. Cohen went to federal prison in 2019 for this little caper.
The Stormy Daniels hush money imbroglio happened just before Trump became president, but it was part of a lifelong pattern of behavior—alleged sexual assaults, non-payment of contractors, tax evasion, housing discrimination, and money laundering. To think that Trump, after decades of exploiting and ripping people off, would change after becoming the most powerful person on the planet strained plausibility at the time, and feels farcical today.
Trump, of course, doesn't see it that way. "This is Political Persecution and Election Interference at the highest level in history," Trump whined in a statement yesterday. But the 2024 presidential election is still 19 months away, and it is more or less an article of faith among professional Democrats that Trump is the weakest person in the potential GOP candidate field. And if Trump wanted to avoid staining a third consecutive presidential election with the fallout of his seedy misdoings, he could do everyone a favor and stay Mar-a-Lago to entertain rich sycophants in between court appearances.
Despite the very real possibility that Trump will soon be acquainting himself with the inside of a jail cell, GOP elites just can't let him go. "Alvin Bragg has irreparably damaged our country in an attempt to interfere in our Presidential election," said House Speaker Kevin McCarthy (R-Calif.). Sen. Josh Hawley (R-Mo.) called it "an assault on our democracy, pure and simple."
Others quickly played the 'banana republic' card. The president's son, Don Jr., who has the demeanor of someone who is constantly high on coke, wrote that "our corrupt elites" are "threatened by Trump, which is why they're willing to turn us into a Banana Republic to stop him!"
Junior, of course, has it exactly backwards. If the term 'banana republic' means anything at all, it refers to a country governed by a self-dealing class of elites who use state institutions exclusively to benefit themselves no matter how much political instability their thirst for power and riches causes. In a banana republic, there is no possible accountability through the rule of law—just coups and counter-coups and violence. Banana republics don't have campaign finance laws to be violated or enforced.
The most banana republic thing that happened in America in the last 20 years was the election of Donald Trump as president of the United States. Mature, functioning democracies do not elevate vulgar, disgraced real estate moguls and former reality TV stars with no political experience to the highest office in the land. They do not allow the nation's chief executive to operate a for-profit hotel down the street from the presidential palace, to employ his own children and their spouses as top advisors or to use the power of the presidency to benefit the caudillo and his family's overseas business ventures.
Trump was a banana-republic president until the bitter end, exiting office under duress after attempting a constitutional auto-coup to keep himself and his cronies in power and then whipping up a mob of enraged supporters to storm the seat of national power after that failed. His inability to overthrow American democracy despite commanding the full power of the state is precisely what still (barely) separates the United States from the flailing dictatorships his allies are invoking in their historically illiterate apologias.
Let them whine.
Trump was always likely to commit crimes in office. It's who he is. But it was not obvious until yesterday that anyone would hold him legally culpable for any of it, given his grip on the Republican Party and particularly its primary voters. Whether he can convict Trump in the hush money case or not, the Manhattan DA has done what elected officials and more powerful lawyers have so far been unable or unwilling to do—prioritize the rule of law over fears that the former president will be mean to them on social media or send his radicalized goons out on a bender of violence and retribution.
David Faris is an Associate Professor of Political Science at Roosevelt University and the author of It's Time to Fight Dirty: How Democrats Can Build a Lasting Majority in American Politics. His writing has appeared in The Week, The Washington Post, The New Republic, Washington Monthly and more. You can find him on Twitter @davidmfaris.
The views expressed in this article are the writer's own.
Most Related Links :
Public News Time Latest News Sports News Finance News Automobile News