Travel
French government: 1 in 3 arrivals from China test positive for Covid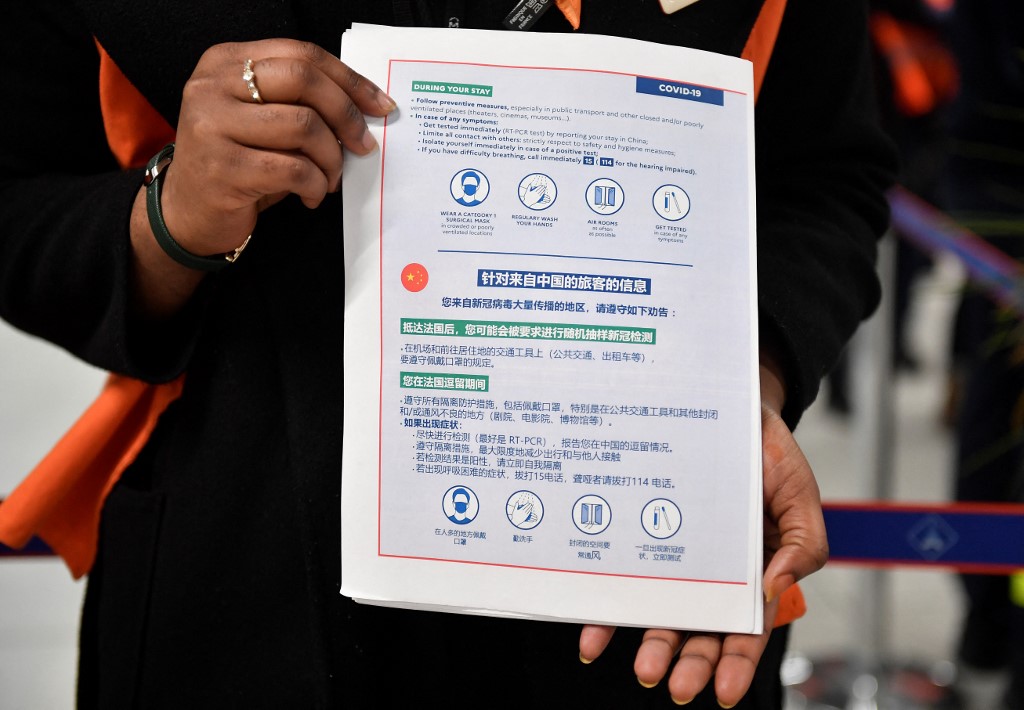 The French government spokesman has defended France's decision to impose extra restrictions on travellers from China, citing one in three positive tests after a random screening of arrivals at a French airport.
Published: 4 January 2023 12:47 CET
This picture shows a COVID-19 preventive measures information document provided to the passengers of a flight from China. (Photo by JULIEN DE ROSA / AFP)
France is among dozens of countries to have imposed extra restrictions on travellers from China in recent days – requiring negative Covid tests and attestations for travellers from January 5th and conducting random testing of arrivals.
In a press conference on Wednesday, French government spokesperson Olivier Véran, defended the government's choice to impose testing, saying that the move is in response to "a legitimate concern" in light of the current wave of Covid-19 cases in China.
"No country wants to see an epidemic outbreak on their territory, not after all the efforts and sacrifices made over the past three years," said Véran.
Starting on Thursday, January 5th, all travellers coming from China will have to present a negative Covid-19 test dated less than 48 hours before the departure of the plane.
READ MORE: Is France likely to reinstate Covid travel restrictions?
France has also begun random screening in airports upon arrival in France, which Véran referred to as a "common sense measure."
Paris Charles de Gaulle airport began random testing of arrivals on January 1st, and according to Véran one in three of these tests was positive.
France is not the only country that has insisted that travellers from China provide negative Covid tests before arrival – the US, UK, Italy, Spain, Canada and Japan are among those to have also done so, while the EU is discussing the possibility of extra travel rules. 
However, airlines have criticised these actions.
"It is extremely disappointing to see this knee-jerk reinstatement of measures that have proven ineffective over the last three years," Willie Walsh, director general of the International Air Transport Association, said in a statement.
IATA, which represents 300 airlines accounting for 83 percent of total air traffic, argued that the coronavirus is already circulating widely within the borders of countries imposing the tests.
"Research undertaken around the arrival of the Omicron variant (in late 2021) concluded that putting barriers in the way of travel made no difference to the peak spread of infections," Walsh said.
In response to the mounting international restrictions on travellers from its territory, Beijing called the testing requirements "unacceptable" on Tuesday and warned that it could take countermeasures "based on the principle of reciprocity".
For those departing France to go to China, Chinese authorities have announced that they will stop requiring quarantines for incoming travellers on January 8th.
Most Related Links :
Public News Time Latest News Sports News Finance News Automobile News